I was honestly a little sad that there were only 6 products in The Parcel Autumn, after the last Parcel had so much in it.

Body
OPI Nail Lacquer – Embrace-Dare Ya!
If I were to describe this colour to someone I'd call it red Chinese satin. It reminds me of the Chinese style dresses & tops that are made of satin. I actually have one, although it's blue & I am pretty sure it was from Taiwan. I was surprised to see that once I had put two coats of this on my nails it appeared to be more of a mauve/purple colour. It's really nice though, goodness knows I have about a million red nail polishes!
MOR soap – Blood Orange
I don't mind getting soap because that's what I use in the shower. Before checking what scent this was I guessed that it was mandarin. I was pretty close. I've had another of these soaps in a previous parcel & found it lasted quite a while & that the scent slightly lingered on my body.
CROP – Natural Pure Macadamia Oil
I read the instructions before using this. it says to use a few drops. Unfortunately one pump was more than enough for my face & neck. I'm wondering if this would be any good for stretch marks, it is an oil after all.
Face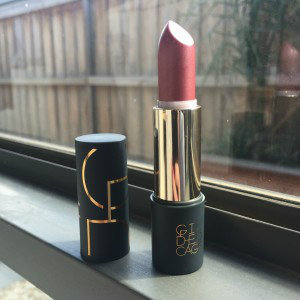 Guided Cage – Lipstick in 107
I wasn't actually going to open this but as the tube wasn't sealed with plastic or a sticker I thought I'd take a squizz to see what colour I got. I'd call it a frosted rose colour. I actually had a lipstick that was a similar colour to this when I was in high school & it was my favourite. It is a subtle colour that makes people wonder if you are wearing anything on your lips or not.
Garnier – Micellar Cleansing Water
I stopped using micellar water at the beginning of December. I bought a bottle of a different brand but found I had a reaction to it, so I stopped using it. It gave me small bumps on my forehead, not quite pimples but they were something. Since this arrived I have used it everyday. I thought it would be interesting to see if my face was actually really dirty from the new regime I had been using, alas it was fine.
Estee Lauder – New Dimension Shape + Fill Expert Serum
I'm really not sure if any of this stuff actually works. I don't notice any difference in my face after using a lot of these high end samples. I would really love it if one blew me away so much that I purchased it.