We choose to feed our dog with premium food because we were given a small bag as a part of the adopt a pet program. I also did a little bit of research and noticed many people had mentioned that with cheaper dog food they need to feed their dogs larger portions to get the nutrients they need. With premium dog food the serving size is generally smaller because there is more nutrition in it.
Here are a few things you can do to save money on dog food
1. Make your own
I know that making my own pet food could save us a lot of money. And I have tried making my own pet food at home from pet mince, rice and vegetables. But I really struggled with the smell when cooking it. And at one stage I had 10kg of homemade dog food in the freezer but the freezer became unplugged for a few days, so we had to throw it all out anyway.
2. Sign up to their rewards program
I belong to the PetStock rewards program. This program gives me cashback in the form of PetStock Dollars when I buy anything in the store. Plus Brand Cash which is cashback when I purchase specific brands.
3. Get on the list
Receiving updates about specials and sales are easy when they come straight to your email inbox. If there is a sale on cat food for the brand I buy, I like to check because sometimes the sale is across the whole brand. I know for sure that if I wasn't on the email list I
4. Take advantage of free shipping
Most stores will offer free shipping once your cart reaches a certain amount. And it's pretty easy to reach this threshold when buying premium dog food. I get any online orders delivered to my work. Even if I'm not there, someone is. Along with free shipping, many places also offer click and collect. My local PetStock is a few shops away from where I go for my grocery shopping, it is so convenient.
5. Wait for a sale
I usually buy my dog food in the 8kg bags. While that bag is normally $100 it does last my little dog around 5 months. The main sale that I look out for is 20% off. The other major sale that I look out for is the buy one, get the second half price. It was great timing in March when they had a buy one get another one for half price. So for $140.18 I got 16kg of premium dog food. That worked out to be $8.76/kg, compared to the regular price of $12.37/kg.
6. Cashback programs
There are a few cashback programs that run in Australia and my favourite one to use is Shopback. So I always look for Shopback partners when buying online.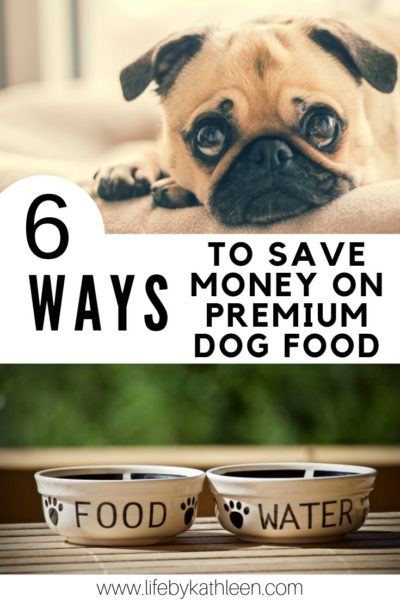 By combining all of the above tactics, my most recent purchase only has me out of pocket by $2.30 for 2kg of premium dog food.
| | |
| --- | --- |
| 2kg Premium Dog Food | $32.99 |
| 20% off | -$6.60 |
| Loyalty Rewards | -$22.27 |
| Shopback Cashback | -$1.82 |
| Total | $2.30 |