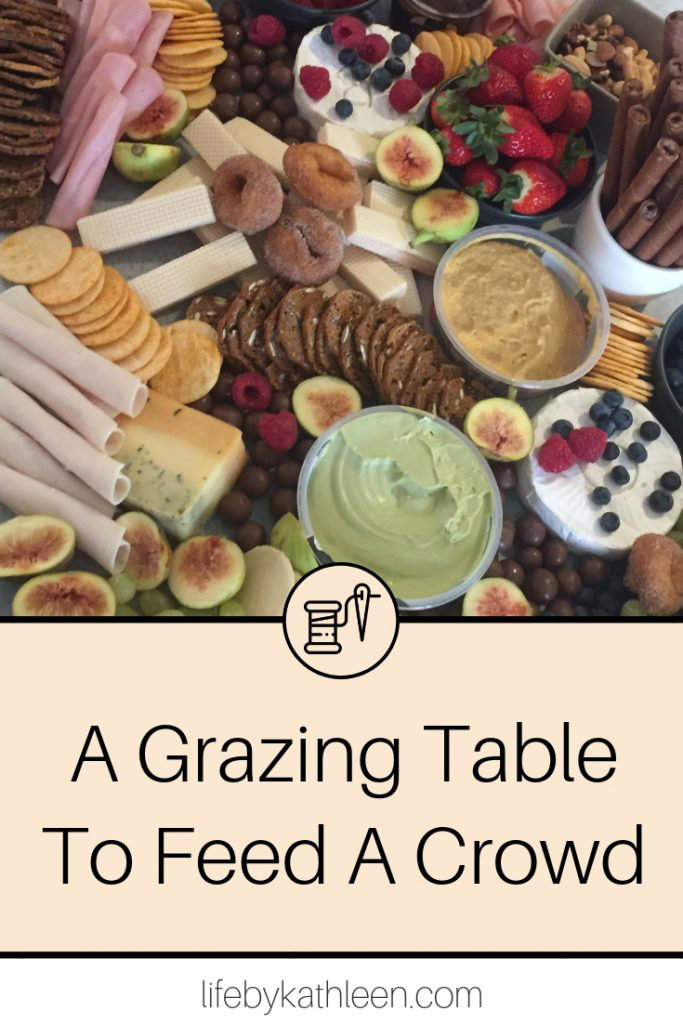 The old bikkies and dip have come a long way since I was a kid. Now it's all Instagram-worthy spreads, specialty cheese and the latest food trends. It goes by many names like grazing board, grazing table, grazing plate, grazing platter, charcuterie board, charcuterie table, antipasto. But whatever you call it, it's an easy way to feed a crowd and almost always looks too good to eat.
A few months ago I went to a lunchtime birthday party where they had a large grazing table. There were quite a lot of adults at the party and I kept wondering when they would bring out the party food. You know, the sausages rolls, meat pies and cocktail frankfurts. But they didn't come, the grazing table was essentially lunch. And surprisingly it was enough to fill me up enough.
Knowing how surprisingly filling it was, I decided to make one for a recent girls night that I hosted at my house. I searched a few different hashtags on Instagram for research. Then I made my shopping list!

Grazing table shopping list
Cheese
With so many cheeses on the market, it's hard to select 'the right one'. I opted for Brie, Camembert, pickled onion Cheddar and onion chives cheddar. TIP: use a toothpick to carve a C for camembert or B for Brie in the top of the cheeses so you know which is which. I personally can't tell the difference, but I'm sure there are people out there that can!
Igourmet Oktoberfest Cheese Assortment, 2-Pound
Fruit & Vegetables
Fruits like blueberries, raspberries, grapes, dried apricots, figs are all great options. Although they aren't in season year-round. Another staple is vegetables that can be cut into sticks. So things like carrot sticks, celery, cucumber sticks.
Mariani Ultimate Dried Apricots -48oz (Pack of 1) –Intense Flavor and Aroma, No Sugar Added, Gluten Free, Vegan, Fat Free, Non-GMO, Resealable Bag -Healthy Snack for Kids & Adults
Crackers and Bread
I think you can't go wrong with the traditional Savoy or Ritz crackers. But I also like water crackers and the newly popular specialty crackers with flavours such as Cranberry Pumpkin or Fig & Pecan. A sourdough or Vienna loaf makes the perfect bread to dip.
Raincoast Crisps Crackers, [2 Pack] HAZELNUT CRANBERRY + FIG AND OLIVE, [12 Oz. Total] Fruit and Nut Crisps Crackers. BONUS MEASURING SPOON INCLUDED.
Meat
Deli meats can look super inviting, especially if you have the patience to roll them all up. Some great meat options are shaved ham, sliced turkey, sliced salami and kabana.
Cattleman's Cut Old Fashioned Smoked Sausages, 12 Ounce
Dip
You can never go wrong with a dip. Dips like French Onion, Avocado, Tzatziki and hummus are popular choices. But I like to throw in something a little unusual or exotic like yellow pea and Thai spices or spicy capsicum.
The Hummus Guy, Hummus Original Organic, 8 Ounce
Sweets
And you can't forget to add something sweet. Chocolate is a great way to add some sweetness and variety to the table. My choice of chocolates and sweets are Maltesers, Corinthians (often only found around Christmas time), KitKat block chocolate, wafers, mini cinnamon donuts and marshmallows.
Pirouline Crème Filled Wafers Chocolate Hazelnut, 40 oz
Putting the grazing table together
When it's time to lay it all out, think about the big picture. Do you want to spread out some of the featured items? Will you put everything out at the start, or keep some in reserve? Do you want to try to group like colours to make it visually appealing?
I put out my small bowls and containers first, along with the dips. Then built everthing up around those. A large chopping board is a must. It helps make the grazing platter portable, for easy relocation if the weather turns bad. If you live anywhere like Melbourne, you need to be prepared for four season in one day. If you don't have a large chopping board, you can always set it up on a bench or table. Lay some butchers paper or baking paper down first though!
Wood Cutting Board Extra Large Maple 18×24 Inch Reversible with Handles and Juice Groove, Thick Butcher Block Chopping Board Carving Cheese Charcuterie Serving Handmade by AzrHom (Bonus Gift Box)
What are you must have shopping list items for a grazing table?
Click on the image below to download the PDF version.